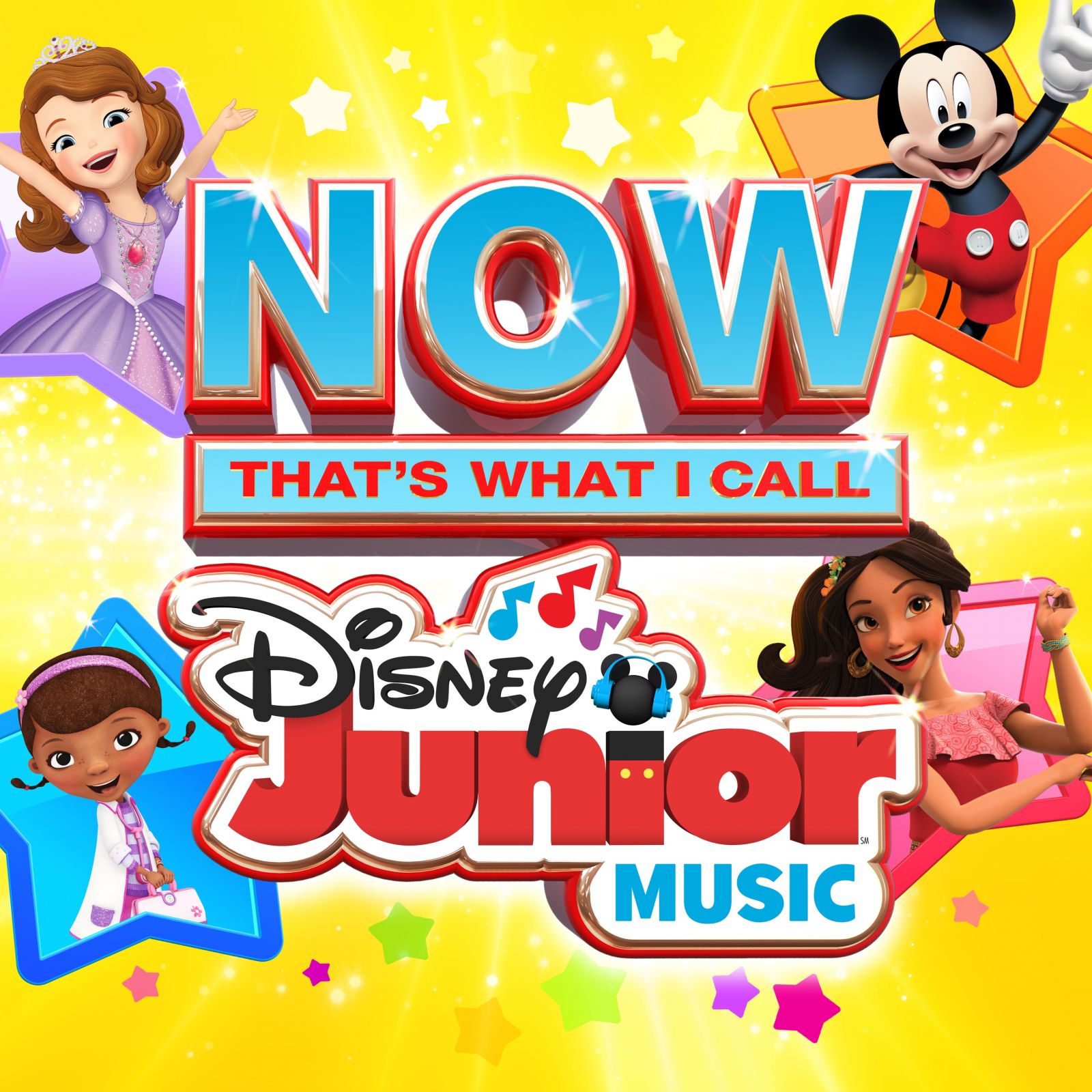 NOW THAT'S WHAT I CALL MUSIC! AND WALT DISNEY RECORDS TEAM FOR NEW COLLECTION OF DISNEY MUSIC FAVORITES, 'NOW THAT'S WHAT I CALL DISNEY JUNIOR MUSIC'
February 23, 2018
New Album Collection Features 20 Top Hits from Popular Disney Junior Channel Shows, Including "Doc McStuffins," "Mickey Mouse Clubhouse," "Puppy Dog Pals," "Vampirina," "Happy Helpers," "Sofia the First," and More

Los Angeles – February 23, 2018 – NOW That's What I Call Music! and Walt Disney Records have once again teamed up for a special NOW album collection showcasing beloved Disney music hits. To be released March 16, NOW That's What I Call Disney Junior Music is available today for digital and CD preorder.
Preorder NOW That's What I Call Disney Junior Music: https://NOW.lnk.to/NOWDisneyJunior
Building on the success of four previously released NOW That's What I Call Disney and NOW That's What I Call Disney Princess album collections, NOW That's What I Call Disney Junior Music features 20 of the best hits from the Disney Junior channel. The album features songs from the channel's most popular shows, including "Doc McStuffins," "Mickey Mouse Clubhouse," "Puppy Dog Pals," "Vampirina," "Happy Helpers," "Sofia the First," and more. It's the perfect soundtrack for young children and Disney fans alike!
Follow @NowThatsMusic on Twitter, Facebook, Instagram, Pinterest
@NowThatsMusic on Snapchat
NOW That's What I Call Disney Junior Music
DJ Shuffle
Time for Your Check Up Doc McStuffins
Way Out (Miles from Tomorrowland Theme) Miles from Tomorrowland
Hot Dog! Mickey Mouse Clubhouse
Jake and the Never Land Pirates (Main Title) Jake and the Never Land Pirates
Get Up and Dance (Sheriff Callie and Minnie Mouse Version)
Choo Choo Boogie Mickey Mouse Clubhouse
Puppy Dog Pals Main Title Theme Puppy Dog Pals
Minnie's Bowtique Mickey Mouse Clubhouse
Blue Ribbon Bunny (Featuring Clover) Sofia the First
Happy Helpers Theme Song Mickey and the Roadster Racers
Here Comes the Lion Guard The Lion Guard
Vampirina Theme Vampirina
Elena of Avalor (Main Title) Elena of Avalor
Amazing Lucky Scarf Sheriff Callie's Wild West
Sofia the First Main Title Theme (Featuring Sofia) Sofia the First
My Time Elena of Avalor
Mickey Mouse Clubhouse Theme Mickey Mouse Clubhouse
The Birthday Song Choo Choo Soul
Zuka Zama The Lion Guard

About NOW That's What I Call Music!
NOW That's What I Call Music! debuted in the U.S. in 1998, following 15 years of multi-platinum international success. The series has generated sales exceeding 250 million albums worldwide, including more than 100 million in the U.S. alone. All 65 previous releases in NOW's numeric U.S. series have reached the Billboard Albums Chart's Top 10, and 19 volumes have reached Number One.
NOW That's What I Call Music! is a joint venture from Universal Music Group and Sony Music Entertainment. NOW and NOW That's What I Call Music! are registered trademarks of Universal Music Group and its affiliates.

About Disney Music Group
Disney Music Group is home to Hollywood Records, Walt Disney Records, Disney Music Publishing, Buena Vista Records, and Disney Concerts. The labels' genre-spanning rosters include (Grammy® nominated) Demi Lovato, Jordan Fisher, Sofia Carson, ZZ Ward, In Real Life, Ocean Park Standoff, Breaking Benjamin, Bea Miller, Sabrina Carpenter, Joywave, Olivia Holt, Tini Stoessel, Shawn Hook, Jorge Blanco, New Hope Club, BOBI and more. DMG also releases family music and film and television soundtracks such as the chart-topping "Guardians of the Galaxy Vol. 2," "Beauty and The Beast," "Descendants 2," Oscar®-nominated "Coco" and "Moana" soundtracks, and the Oscar and Grammy-winning "Frozen" soundtrack. Upcoming soundtracks include "A Wrinkle in Time," "Mary Poppins Returns" and "The Nutcracker and the Four Realms." DMG recently acquired the Star Wars music catalog, featuring score by Oscar-winning composer John Williams.